PawsLikeMe helps people and pets find each other and live happier lives together. That's our mission. It's why we exist.
Our work in rescue taught us of the need to keep animals out of shelters. The euthanasia statistics are staggering, and the lives lost will never be regained. Though the numbers are improving, too many animals are euthanized each year, and PawsLikeMe wants to help make that number even smaller by giving current guardians,shelters, and rescues an alternative path to finding a new home for a pet.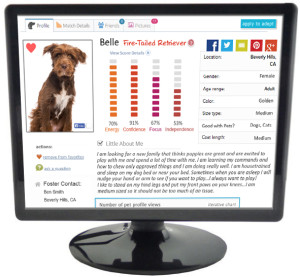 How can we do this online? PawsLikeMe has developed algorithms that identify the best match for people and pets. Just like people, each and every pet is a unique individual, and our algorithms help bring pets and people together. Don't believe us? Try it for yourself!
The founders and employees of the company bring years of experience with animals and technology. They don't judge, and they care deeply.
Elizabeth Holmes, CEO and Co-founder
Elizabeth is a former Director, Product Management for Reed-Elsevier Clinical Analytics Division, and Tech Manager at JPMorgan. She founded and ran Dog S.O.S., a pet rescue, for over eight years. Her non-human family consists of five dogs, two birds, and two guinea pigs.
Marianna Benko, CCO and Co-Founder
A Licensed Clinical Social Worker with a Psychology Specialization, Marianna has several years in social work, and recently served as manager for Centene Corporation. Marianna has served many years as a foster home for rescues, and is passionate about all animals, especially cats and kangaroos!
Coleen Johnston, D.V.M, Behavior Science
A Doctor of Veterinary Medicine and Animal Behaviour Expert, Coleen founded the first mobile vet clinic in Brevard prior to co-founding PawsLikeMe. She thrives on research and is fascinated by the human-animal bond. She's currently hanging out with a cat, her African Grey parrot, and regularly visits her friends dogs.
We founded the company to help save the lives of animals by leveraging technology to bring people and pets together, and we'd love to hear from you.  Drop us a note or head over to our main site and find your perfect match!