Just over two months ago I got up to take a quick break from our team meeting. We often work from our homes which is great because I get to hang out with my dogs. Only on this day Daisy couldn't get up to follow me to the kitchen. Daisy always follows me to the kitchen.
It was the first time in over 13 years that I'd seen fear in her eyes. The next day it was confirmed that Daisy has cancer. It started on her spleen and spread into the lining of her stomach. Surgery will be complicated and life threatening. Our western medicine vet told us that without surgery she'd only live "a handful of days."
We opted for comfort care. The next day we took her to our eastern medicine vet (yes, we have two vets) and started with a B12 shot, an acupuncture treatment, and some Chinese herbs.
Facebook proved invaluable. We asked if anyone had a cart or wagon we could use to take Daisy on walks. After receiving many offers from the great people in our neighborhood and decided on a fat-wheeled garden cart and began our farewell tour with our neighbors.
Daisy only took two walks in the garden cart before she let us know it was time for her to walk on her own again. For the last eight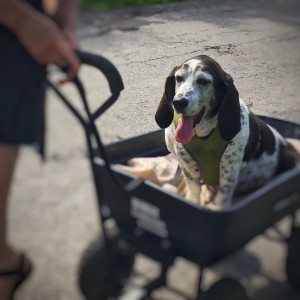 weeks she's acted as if she isn't sick, but we know that she is and that any day she could pass.
We're lucky to have this insight and the last two months with Daisy. It's added more vibrancy to our days, and it's given us an opportunity to reflect upon our lives together. I've learned a lot from her over the years, but three of the top lessons are:
If you give love, you get love. Daisy projects peace and love wherever she goes. When people see her, they smile, even when they're just by in a car. There are neighbors that make special trips by our yard to visit Daisy. They talk with her often.
Relationships are key.  Over the years, we've helped others take care of their pets, and we've asked others to take care of ours.  It's these relationships, especially in times when pet mortality is in front of us, that help us get through life.  And, let's not forget the relationships with our pets that help us get through each day!
Don't ever give up. Almost every morning on our walk we see at least one bunny, and each time she takes off after the bunny with everything she's got. Unfortunately for her, each time she has to pursue the rabbit with a human anchor attached to her.
Each day we get to spend with those we love, human and nonhuman, is a great day. It's easy to lose sight of that with the crazy pace we set for ourselves, but a reminder of our mortality can bring it right back into focus.  As pet lovers, we all will face pet mortality at some point along our journey.
We don't know how many days Daisy has left, or for that matter, how many days we have left. I think that the best we can do is to continue to offer our love to others, cultivate relationships to support each other, and never, ever give up.
What have you learned from your dog? We'd love to hear from you in the comments below.